How do you use the power of vision boards to manifest your goals?
Are vision boards effective? Do vision boards work?
Creating and using an effective vision board may be the missing piece to your puzzle. My life changed when I started incorporating vision boards into my goal-setting process, and yours can too!
If you need more convincing, Oprah and Beyonce are just two of many successful people who are firm believers and users of vision boards. The beauty is that you do not need to be a celebrity to use this, everyone has access to the power of vision boards.
Vision boards can be created as frequently as you need and can represent life-long, long-term, or even short-term goals. I tend to make my mini vision board seasonally and annually.
The power of vision boards can be used whenever you need it. If created and used correctly, you can unlock the power for yourself.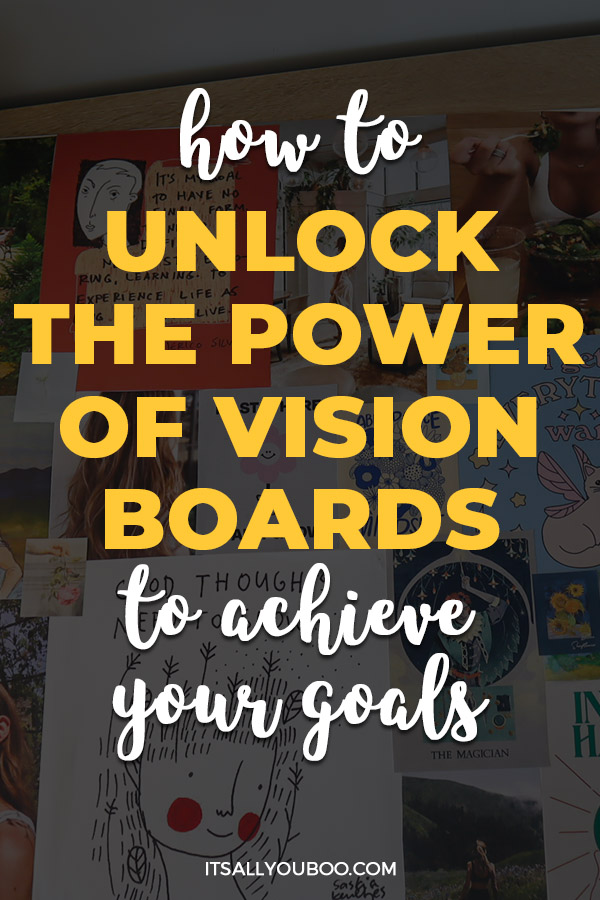 THIS POST MAY CONTAIN AFFILIATE LINKS.
CLICK HERE FOR MY FULL DISCLAIMER STATEMENT.
What is the Power of a Vision Board?
In the simplest terms, a vision board is a visualization of your goals. It is putting the image of the life you dream about into a tangible item that can help you achieve your goals.
By creating a vision board, you are turning your goals into reality, speaking them into existence, which can inspire the law of attraction.
Even if you're not a spiritual person, there's no denying that vision boards are a positive, inspirational, and motivational tool that you can use in your everyday life to keep you goal-oriented and inspired.
The power of vision boards is more than success, it is a tool that can help you when you need it most. When I'm feeling lost or overwhelmed, I use my vision board as a motivational tool. I look up to my board and the first image to catch my eye is what I'm meant to see at that time.
Vision boards have the power to bring positive energy into your life, and you have the power to make your own!
👉🏽  RELATED POST: How to Manifest Your Dream Life
What To Put On Your Vision Board
Not sure what to put on your vision board?
A vision board is created with images, graphics, text, and numbers that represent your goals. I like to use Pinterest, Tumblr, and Canva to find or create the graphics I need.
My trick to finding images I need is to search [insert goal here] followed by "inspiration" or "aesthetic".
Using these images, you will create a physical or digital collage of your goals.
To unlock the power of vision boards, you need to remember three things when creating:
Be specific
👉🏽  RELATED POST: What is the Law of Attraction?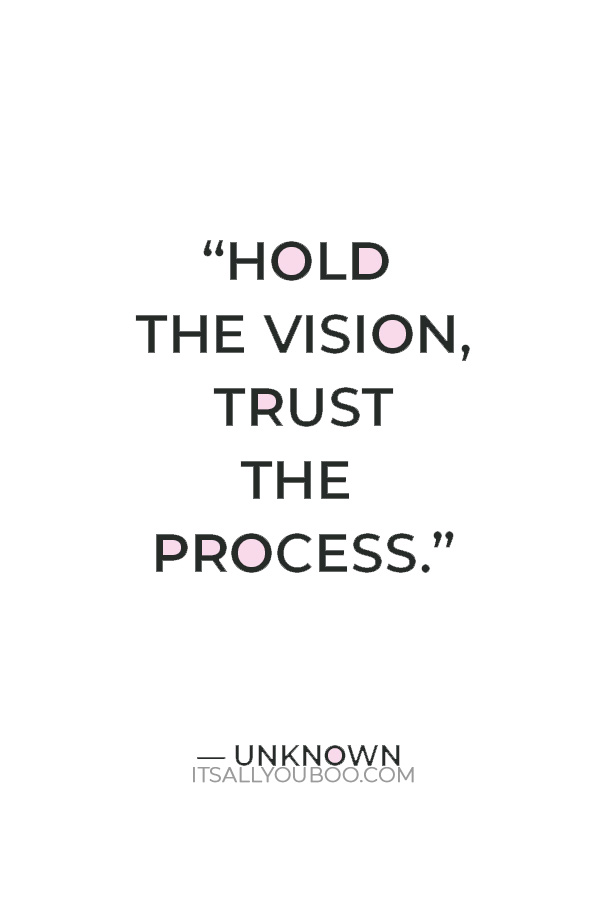 #1.
Be Specific
The first step in using the power of vision boards is to set your personal goals these goals need to be specific. It is important that you take time to reflect and set your goals for a given timeline.
Think about what you want to achieve and when you want to achieve it. Write down as much detail as you can and make notes about what kind of imagery represents these goals.
Vision boards can be life-long goals, yearly goals, or even monthly goals! Think about your goals and the timeline you're setting for them and then create a board for this moment in time.
Write down your goals and make them specific, this is not the time to doubt yourself. Use the power of vision boards to your advantage and write down what you truly want.
You do not need to share every detail of these goals on your board, as long as you understand exactly what you want and what each image represents, your vision board will work!
Here are general goal examples:
Run a marathon
Find your dream car
Get monetized on YouTube
Get accepted into school
Publish a book
👉🏽  RELATED POST: How to Manifest Love Using the Law of Attraction
#2.
Be Positive
Your vision board needs to be a positive space. It should be inspiring and motivating, NOT intimidating. Do not use any negative imagery, if your board makes you anxious, it will not give you the positive power you need.
There's a fine line between empowering and overwhelming, make sure your board can help you no matter what headspace you are in. If having dates and numbers on your board is intimidating, opt for using an inspirational quote instead.
The easiest way to tell if your images are bringing positive energy is to check if you feel excited when you find them because finding the visualizations of your goals should be exciting. Pay attention, you may even catch yourself smiling!
👉🏽  RELATED POST: How To Clear Limiting Beliefs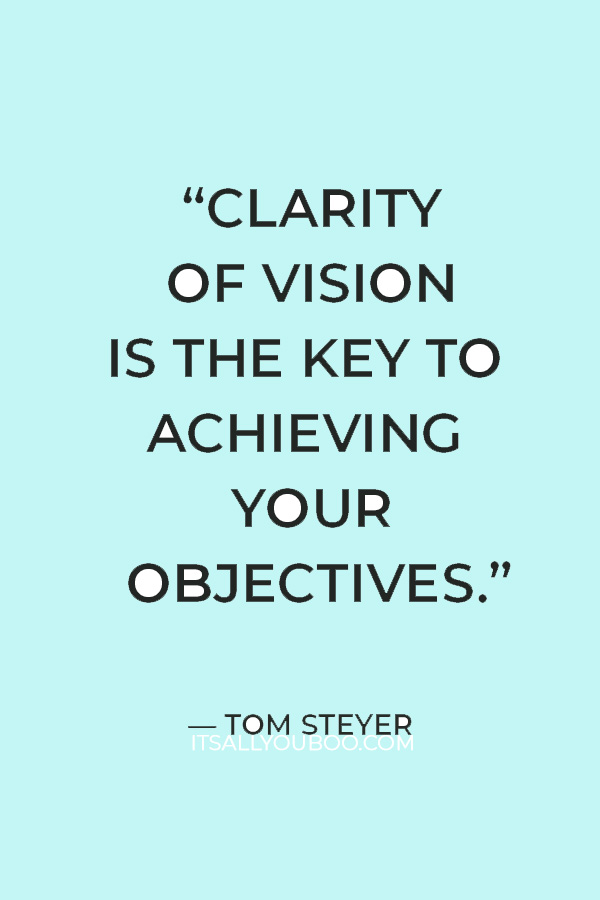 #3.
Set Your Intentions
When you're making your goals and finding your imagery, you need to set your intentions with your energy. When you bring this board to life, the energy you put into it is what is sent out to the universe and it stays with you every time you look at your board. Enjoy the process, get inspired, be creative.
Think about how reaching your goals would make you feel and carry that feeling when you create your board.
I recommend putting on your favorite playlist or manifestation videos on Youtube to keep you present in the activity and that energy.
With all of this in mind, make sure the imagery is eye-catching. Try not to use black and white photos or get caught up in aesthetics. You want every piece of your board to catch your eye so that you are constantly reminded of ALL of your goals. Vision boards can feel like a craft or a decoration, but remember you are using it as a tool to help you towards your goal, make sure it's useful!
👉🏽  RELATED POST:  Quotes About Achieving Goals and Dreams

How Do You Manifest Using a Vision Board?
Visualization is a powerful tool. It can help achieve your goal by allowing your brain to see and feel the success of your goals.
The key to using a vision board is displaying it somewhere you will see it, a lot. Personally, I have a yearly vision board at my workstation at home and have my seasonal vision boards as my phone and computer lock screen.
If you want to keep your board private, you can place it in your bedroom or anywhere that is just for you. Just make sure that you do not display it in a location so private that you forget to use it.
Whenever you see your vision board, you need to be present and pay attention to what you see. What image are you drawn to today? Let yourself feel that goal, read the quote aloud, embrace your board and the feeling it brings.
👉🏽  RELATED POST: How to Manifest Money Fast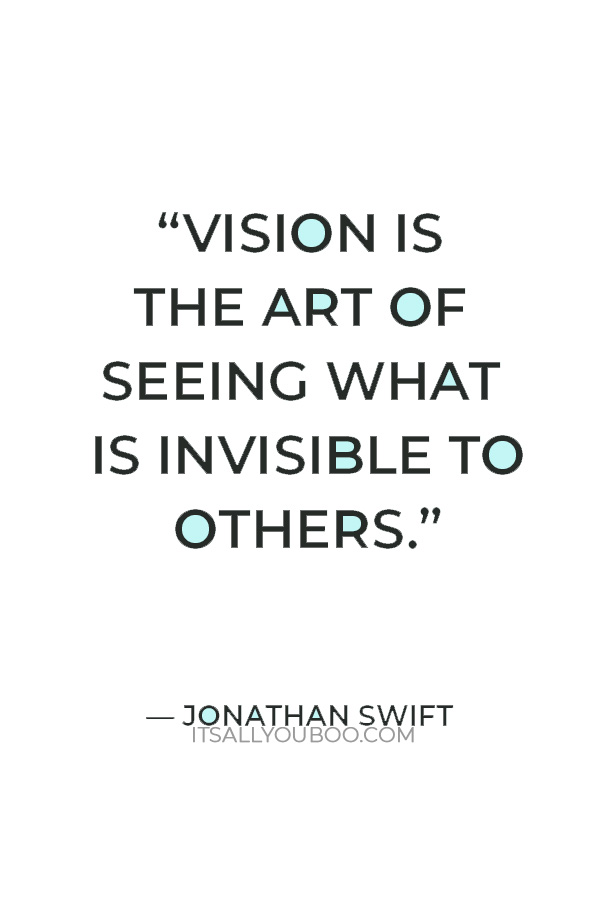 Align Yourself to Your Vision Board
Your goals and manifestations require action. You need to align yourself with your goals, you need to live by what is on your board. Begin by using this board to set your intention for the day, look at it when you wake up and when you need motivation.
Let it guide you on the path you imagined while creating it. It is easy to treat your vision board as an art piece, but it is much more than that and you need to actively see it.
Finally, be open to your manifestations. You need to be open and ready for your visualizations to become reality, erase your self-doubt.
Oftentimes, we never admit to ourselves that we are hesitant or nervous about what success may bring to our lives. Accept the fear of the unknown and turn it into excitement!
👉🏽  RELATED POST:  How to Train Your Subconscious Mind 
Want to Take Your Vision Board to the Next Level?
Using the power of vision boards requires consistency and commitment. I recommend picking up a notebook or journal and using it alongside your vision board. This trick also helped me commit to the habit of using a journal.
At the initial stages of planning your goals, you can start writing in this journal and use it to plan out your vision board.
Keeping this journal will help remind you to incorporate your vision board into your daily routine when life gets busy.
To use your journal directly with unlocking the power of your vision board, you will need to spend at least 5-10 minutes a day looking at your vision board and converting your thoughts and feelings into your daily journal.
My journal spread consists of reminding myself of my intention and goal of the image that catches my eye that day, writing affirmations and manifestations to strengthen the law of attraction, and most importantly taking any thoughts of self-doubt and turning them into motivating and inspiring thoughts.
The power of vision boards can help you achieve your goals, but more importantly, it can help you stay positive and give you hope.
👉🏽  RELATED POST:  How To Manifest Gratitude from the Universe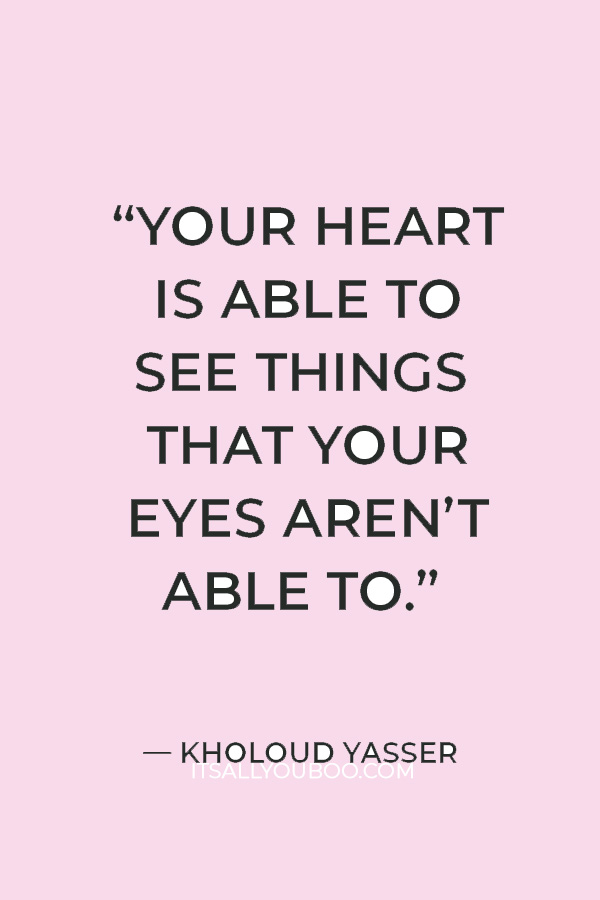 Vision Board Mistakes to Avoid
What are common mistakes to avoid when using a vision board? What should you not put on a vision board?
Everyone's vision board will be different, but there are common mistakes many people make when using a vision board. Instead of letting mistakes discourage you, learn what they are and be proactive in preventing them to ensure you unlock the power of vision boards.



#1.
Not Displaying Your Vision Board Properly
If you tuck your vision board in a corner where you will never see it, you're essentially saying your goals are not a top priority. Your vision board and goals will become an afterthought.
#2.

Not Paying Attention to the Images
It's not enough to just glimpse at your board. You need to actively see your images, be present in that moment, and remember the energy and intentions you placed with those images. This is where keeping a journal can really help.



#3.

Not Make Your Goals Or Images Specific
It's okay to have general quotes and images as long as they remind you of a specific goal, but you're doing yourself a disservice by being too general. The more specific you are, the increased intensity of the power of your vision board.
👉🏽  RELATED POST: Motivational Goal Setting Quotes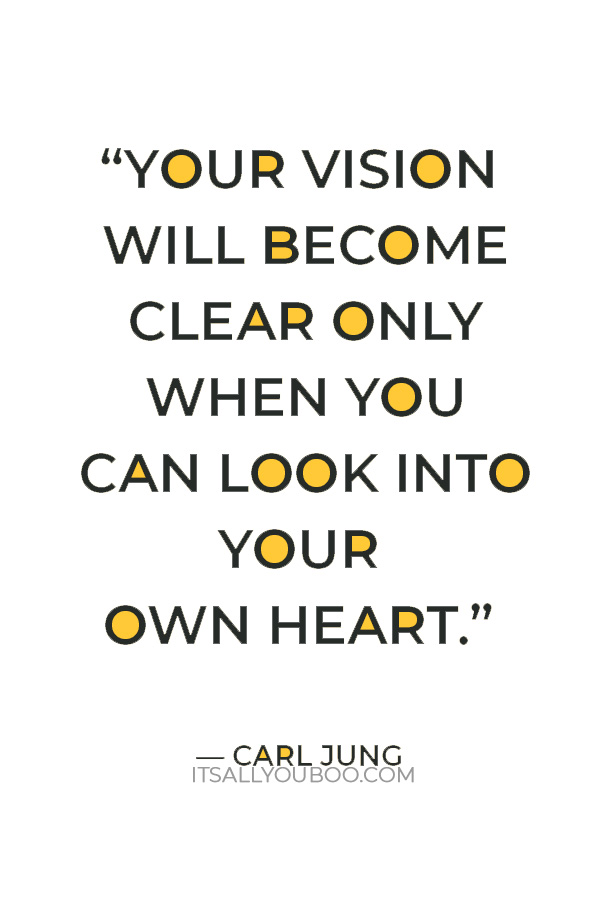 #4.

Not Setting Goals
If you just try to create it in the moment, you're going to lose the energy and intentions that the board needs during construction. Yes, it is a fun DIY project, but you really need to reflect and plan your goals so that your intentions are solid and that energy flows into your process.
#5.

Not Being Honest with Yourself About Your Goals
If you're filled with self-doubt and watering down what you really want, you're limiting yourself. Vision boards can help you achieve your biggest goals, but you need to feel that you are worthy of these goals and that your dream life is possible for you.

#6.

Not Putting in the Work
A vision board is a tool, but it cannot do the job by itself. Use your vision board to stay goal-oriented and work on yourself. If you want the universe to bring you opportunities, you have to be in the right place to receive them.
The truth is, the power of vision boards is stronger than we know. It contributes to a growth mindset while carving the path to our biggest dreams.
Like your goals, the visualizations of your goals will change too, I recommend updating your vision board and creating new ones throughout your life.
👉🏽  RELATED POST: How to Take Action When You Can't Start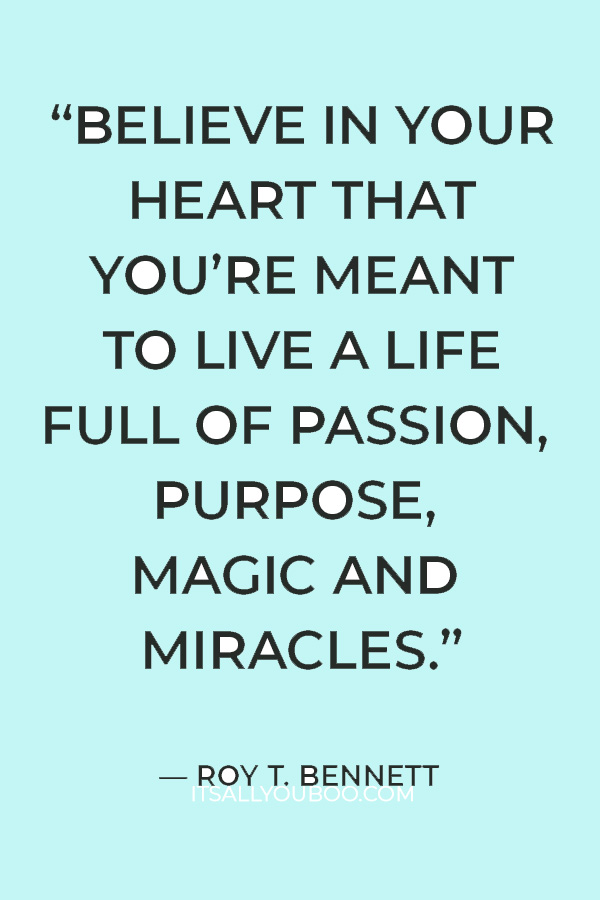 Printable Vision Board Quotes
Ready to unlock the power of vision boards in your life? Get your free printable vision board quotes. Each design features brushed ink letter detailing and is the perfect addition to any vision board.
This download comes with 10 high-resolution, graphic quotes ready to be printed and displayed. To make them the perfect size for your vision board, print 4 or 6 per page. Add a pop of color by printing them on colored paper.
Create your vision board, unlock its power, and watch your life change!
You can achieve your goals and manifest your dreams!
What is the purpose of a vision board? Click here for how to unlock the power of vision boards to achieve your goals. You can manifest using a vision board! #VisionBoard #AchieveYourGoals #LawofAttraction #LOA

Ready to unlock the power of vision boards in your life?
---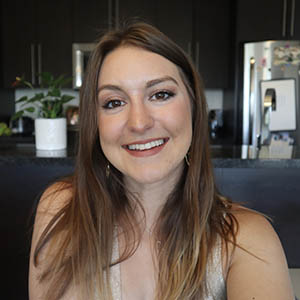 More About Guest Contributor
I'm Alexx of Following Alexx – a blog based on my curiosity for life and my path to living with intention and learning how to connect with nature.
Last Updated on December 7, 2022
✕
Get Your Vision Board Quotes
+ get weekly tips to help you slay your goals.